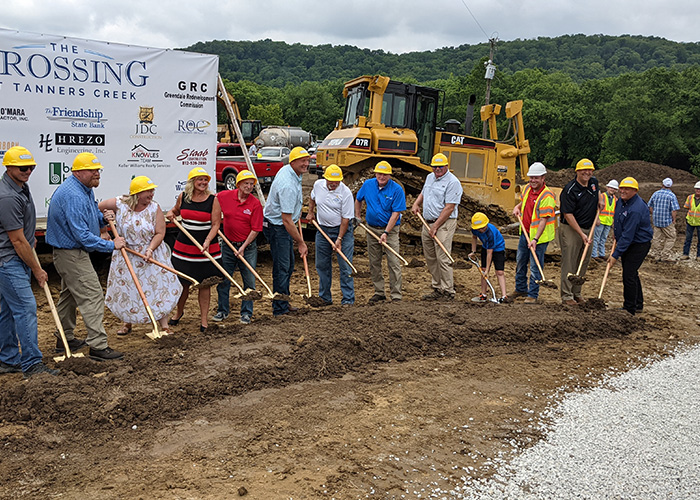 Developer, builders celebrate start of new neighborhood in Greendale
Press release from The Crossing at Tanners Creek
Greendale, Indiana – Ground has been broken on The Crossing at Tanners Creek, Southeastern Indiana's newest, walkable residential community in the City of Greendale, Indiana, part of the Cincinnati Region.
The $5 million project by local developer Casey Knigga will see 84 new homes constructed on approximately 30 acres conveniently located along Indiana State Highway 1 at Georgetown Road. More than half of the site is being preserved as greenspace.
The Crossing at Tanners Creek will offer a variety of housing products such as front- and alley-loaded single family detached homes, as well as townhomes of two up to four u­nits attached. The homesites are mostly between 1/8 and 1/4 acre in size. Prices for the various units will range from the mid-$200,000's up to the mid-$400,000's.
Buyers will be able to choose from four local, experienced, and reputable homebuilders at The Crossing at Tanners Creek, including Staab Construction, JDC Construction, Sequoia Construction, and White Pine Construction. Each builder will guide their clients through the home construction process. The official broker for the development is Jay Knowles of Keller Williams Realty Service.
With earthwork started in June 2021, vertical home construction is expected to begin in late summer, followed by the completion of all site infrastructure this fall. Full buildout of the new neighborhood is expected in three to five years.
"We're addressing a need in Southeastern Indiana and the Cincinnati Region's market," said Knigga, the developer. "With The Crossing at Tanners Creek, we wanted to create a great community with a desirable and more carefree atmosphere for people in all phases of life. Our smaller lots will give customers the ability to construct their dream home, but be free from the burden of mowing large lawns so they can spend more time strolling the walking trails, tossing a ball in the shared play field, and interacting with their neighbors."
New residents at The Crossing at Tanners Creek will enjoy sidewalks throughout the neighborhood, common green courts, and gazebo and picnic shelters. A paved trail will encircle a pond and water feature where residents and their guests can go fishing. A nature trail loop will lead to kayak and canoe access of the calm waters of Tanners Creek.
In addition to the on-site features, The Crossing at Tanners Creek is a quick trip to many of the Cincinnati Region's best amenities. Perfect North Slopes ski area is located within three miles. The I-275 beltway is just about two miles. The Cincinnati-Northern Kentucky International Airport is within a 15-minute drive. Historic downtown Lawrenceburg is within 10 minutes. A new Southeastern Indiana hospital is planned in Greendale, making the new neighborhood an ideal location for various professionals looking to be close to their workplace.
Greendale Mayor Alan Weiss said, "From park space to walkability, the Crossing at Tanners Creek echoes many of the best aspects of our City's existing and highly-desirable neighborhoods. I appreciate Mr. Knigga's vision for this project and his work to bring it to life. On behalf of the City, we welcome those who will soon live here and call Greendale home."
The neighborhood is the first planned unit development (PUD) in the City of Greendale's history. It has received all local approvals for development.
Knigga thanks various public bodies which have supported the project, including the Greendale Redevelopment Commission, Mayor Weiss, Greendale City Council, Board of Works, and Planning Commission, The Lawrenceburg Community School Corporation, Dearborn County, Dearborn County Chamber of Commerce, Dearborn County Homebuilders Association, and One Dearborn Economic Development.
Learn more about The Crossing at Tanners Creek by visiting www.crossingattannerscreek.com. If interested in securing a homesite, please contact the builders above or Jay Knowles at thecrossingattannerscreek@gmail.com or 812-577-2712.