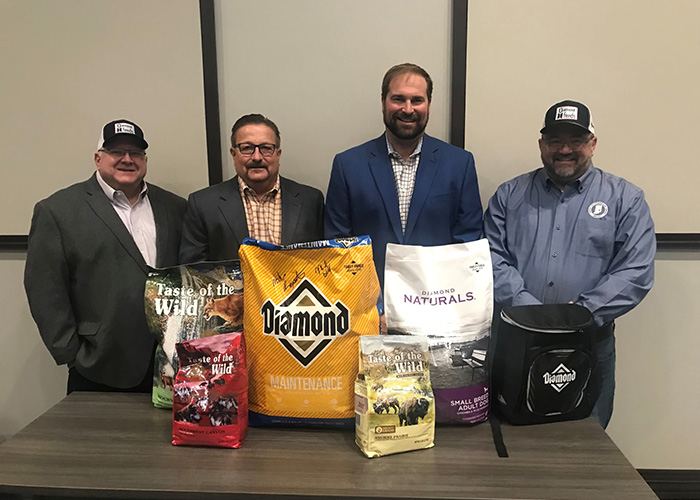 Diamond Pet Foods Announces They Will Build a New Plant in Rushville, Indiana
170 Jobs and $220 Million Dollars in investment. Their goal is to be in operation in 2023.
Diamond Pet Foods is one of the fastest growing manufacturers of pet foods in the country, with brands trusted by professional breeders, trainers, veterinarians and nutrition-conscious pet owners in more than 100 countries worldwide. They are the 6th largest pet food brand in the U.S.
Diamond Pet Foods, since its beginnings in 1970, has always been a family-owned and privately held company with strong Midwestern values. They are one of the leading manufacturers of pet food in the nation, with a complete range of proprietary and private label products that they manufacture in five (soon to be six), state-of-the-art and safety-certified facilities across the country.
According to the Diamond site selection team, they received RFIs (Requests for Information) from five states and narrowed their search to five sites in Indiana and Ohio where they made site visits. Their visit to Rushville was on June 24th.
According to Mark Schell, Executive Vice-President of Diamond Pet Foods, "To be honest, Rushville wasn't at the top of our list when we began our search, but in the end we were blown away by Rushville's readiness, the cleanliness and vibrancy of the town and the can-do spirit of all that we encountered on our initial and subsequent visits. In the end, Rushville "just felt like home to us."
"Obviously, this is a HUGE win for Rushville and Rush County," said Rush County ECDC Director John McCane. "Since completing the Industrial Park in 2016, we have had several site visits finishing second multiple times. In 2019, we were excited to land the Cormo deal, only to see it fall apart due to difficulties with Covid-19. Our community's tenacity has finally paid off. We have the big win we have all been working so hard to achieve. This is likely one of the biggest investments in my lifetime."
Diamond Pet Foods will operate out of a 700K Sq. Ft. facility on a 110 acre parcel just North of INTAT. The site was favorable to the company because of its immediate access to rail, and quite honestly the project is too big to fit in the 80 acre commerce park. Even though it is not in the footprint of the commerce park itself, the Diamond site is still designated shovel ready certified prime with the State.
Key customers for Diamond Pet Food include Costco and Tractor Supply, which does carry their products locally under the brands of Diamond Naturals, Taste of the Wild and Diamond Pro89.
"This is exactly why we have been doing what we are doing! Investing in ourselves so others feel comfortable investing in us," said Rushville Mayor Mike Pavey. "It's more than just investing in 'pretty sidewalks.' It is all about improving all aspects of our community so we can continue to grow attracting new people and new investment. We want to ensure this town we love so much is here for generations to come."